Safeguarding Statement
Rainbow Day Nursery (Tamworth) Believes that every child is entitled to a safe and happy environment. All staff associated with Rainbow Day Nursery accept this and should anyone have any concerns the advice of a professional agency will be sought.
Quality of care
The management team, who alone have over 60 years of childcare experience, run an excellent team of highly trained experience staff. Together they offer a superb quality of childcare throughout the 3 age related rooms. All staff regularly updates their training and are DBS checked.
Rainbow strives to have a good parent partnership.
Education
Children develop quickly in the early years and we as early years practitioners at Rainbow aim to do all we can to help children have the best possible start in life.
The Early year's foundation stage (EYFS) is the framework which we use.
Upon your child entering Rainbow you will be asked to complete your child's "My story".
Weekly planning will be completed which works alongside individual/group observations, 8 weekly early years progress tracker and 3 monthly progress reports.
Although each child has their own keyworker, all staff have a duty of care for all the children.
EYFS themes and principles
Children are born ready, able and eager to learn. They actively reach out & interact with other people and in the world around them. Each unique child has to have opportunity to interact in a positive relationship and enabling environment.
The four themes of the EYFS enable this.
A unique child    +  Positive relationships  +  Enabling environment  =  Learning & development
A unique child
Every child is a competent learner from birth who can be resilient, capable, confident and self-assured.
Positive relationships
Children learn to be strong and independent from a base of loving and secure relationships with a parent and /or a key person.
Enabling environment
The environment plays a key role in supporting and extending children's development and learning.
Learning & development
Children develop and learn in different ways and at different rate and all areas are equally important and inter connected.
Nurturing Health GOLD Award!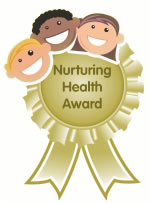 We have our own dedicated trained cook who provides nutritious freshly prepared meals during the day. In September 2010 we achieved the nurturing health award – Gold Level
The nurturing health award has been produced by the "live well, be well Staffordshire partnership". It has been designed to provide childcare providers with specific guidelines on how a varied, safe and balanced diet can be achieved, along with other health related activities.  We continue to keep to these high standards with our varied Summer & Winter menus.
Rainbow Child Day Nursery –  The best for high quality affordable child care in Tamworth.